As an occupational therapist, I've witnessed various ways children hold pencils. While some methods are acceptable, others can hinder the development of legible handwriting.  The way a child holds a pencil directly affects his or her ability to develop legible handwriting. Here are some things to look for when observing the way children hold pencils, as well as some tips to help you teach children to hold pencils and crayons correctly.
What is and Ideal Pencil Grip?
The ideal pencil grip is called a tripod grasp. In this grip, the child uses the thumb and index finger to hold the pencil's tip while stabilizing the shaft with the lateral side of the middle finger, forming a tripod-like structure.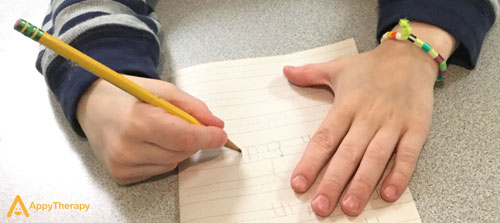 Another acceptable grip is the quadruped grasp, where the middle finger also rests on the pencil, alongside the thumb and index finger. These grips allow children to hold pencils securely while having precise control over the tip.

Identifying Incorrect Pencil Grips 
Not all children naturally adopt the tripod or quadruped grasps. Other grips lack stability, with the thumb not supporting the pencil adequately, loose grip, or finger positions limiting control. Children with awkward grips must exert more effort to write legibly, potentially hindering their overall learning process.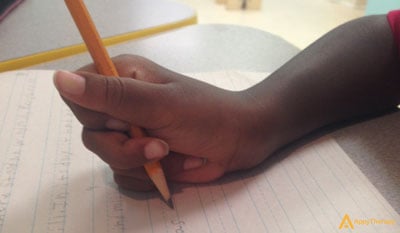 That's not to say that your child won't be president someday because of his or her pencil grip, but even presidents who sign thousands of documents could benefit from a proper pencil grip. Here is a picture of former President Barack Obama signing documents with an inefficient thumb-wrap grasp.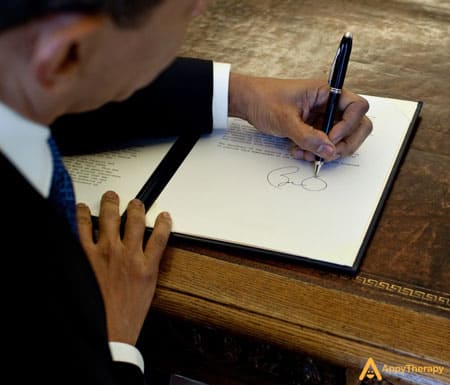 Does Pencil Grip Develop Naturally?
Not always. While some children may develop a tripod grasp by four-year-old kindergarten, others may struggle with proper grip until second grade. To help children develop appropriate grips early on, consider these tips:
Encourage drawing and coloring activities from a young age. Correct their grip if needed, as children often require guidance in holding pencils and crayons correctly.
Provide short pencils and crayons. Although kids may complain, the shorter shafts naturally position their fingers towards the tips, facilitating functional grips.
Teach the "flip grip" technique. Have children place the pencil on a flat surface with the tip facing them. Instruct them to position their thumb and index finger above the tip and then flip the pencil up into their hand, resting the shaft on the web space between the thumb and index finger. This places the pencil correctly for a tripod grasp, with the middle finger stabilizing it.
Encourage play with small objects that require pinching and rolling motions. Playdoh, clay, Lite-Brite, and small building blocks like LEGOs can enhance finger strength and precision during play.
Seeking Additional Support
If a child struggles to develop a proper pencil grip despite practicing the above techniques, don't worry. Some children may require extra assistance. Drawing dots on the pencil or using triangle-shaped pencils and crayons as visual cues can help guide finger placement. If the quadruped grasp is functional for the child, support and encourage it.
However, if a child continues to struggle with grip despite adaptations, underlying issues like hand strength, coordination, or visual motor skills may be present. In such cases, consulting an occupational therapist can help identify and address these challenges to ensure proper pencil grip development.