As an occupational therapist, I have seen children hold pencils many ways. Sometimes this is okay, and sometimes it isn't. While many teachers do not have the time to address pencil grip during their busy days, the way a child holds a pencil directly affects his or her ability to develop legible handwriting. Here are some things to look for when observing the way children hold pencils, as well as some tips to help you teach children to hold pencils and crayons correctly.
What Should a Normal Pencil Grip Look Like?
The ideal pencil grip is called a tripod grasp. When the pencil is held this way, the child places the tips of the thumb and index finger on the pencil and stabilizes the pencil shaft with the lateral side of the middle finger, forming a tripod around the pencil. This picture shows a young boy holding a pencil with a tripod grasp.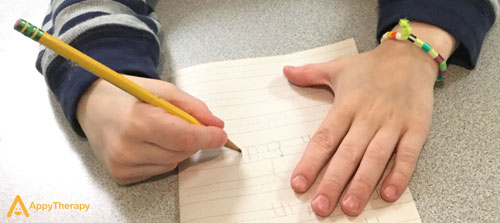 Some children use a quadruped grasp, where the tip of the middle finger is placed directly on the pencil in addition to the thumb and index fingers, and the pencil shaft is stabilized by the lateral side of the ring finger. This is also an acceptable and very functional pencil grip. Here is a picture of a child holding her pencil with a quadruped grasp.

The reason these pencil grips are considered ideal is that they allow children to hold pencils firmly, while at the same time using their fingers to move the tip of the pencil in a precise manner.
What Is Wrong with This Pencil Grip?
Of course, not all children hold pencils with tripod or quadruped grasps. What is wrong with these alternate grasps? If you look at the finger placement of other pencil grasps, you will see that at least one element of stability is lacking. The thumb may not be supporting the pencil, the pencil may be held loosely, or the pencil may be in such a position that the fingers cannot move to control it, requiring the child to move the pencil by moving his or her wrist and forearm. A child who holds a pencil in an awkward manner must work harder to learn to write legibly and may miss out on other learning as he or she struggles to write.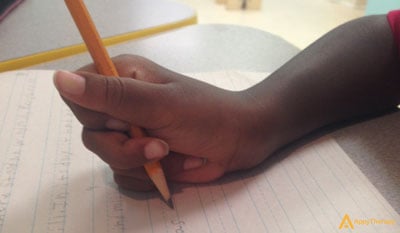 That's not to say that your child won't be president someday because of his or her pencil grip, but even presidents who sign thousands of documents could benefit from a proper pencil grip. Here is a picture of former President Barack Obama signing documents with an inefficient thumb-wrap grasp.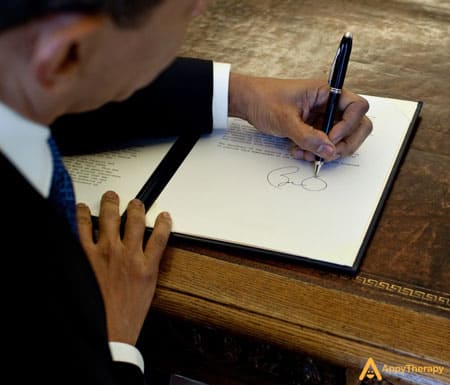 Does Pencil Grip Develop Naturally?
Not always. Some children may show up to four-year-old kindergarten screening with a perfect tripod grasp, while other children may still be struggling to hold pencils correctly in 2nd grade. Most children should develop the ability to hold a pencil with a tripod grasp between the ages of 3 and 5. Here are some tips to help children develop proper pencil grips early:
Give children ample opportunity to draw and color while they are young. Do not be afraid to physically correct their pencil grips as they draw. Children often need to be taught how to hold pencils and crayons.
Provide short pencils and crayons for children to use. Kids may complain about drawing with crayons that are "broken", but the short shafts force their fingers toward the tips of crayons, facilitating the development of functional grips.
Teach children the "flip grip". Have a child place the pencil on a flat surface with the tip of the pencil facing him or her. Teach him or her to place the tips of the thumb and index finger on the pencil just above the tip, and then "flip" the pencil up into the hand until the shaft is resting on the web space between the thumb and index finger. This places the pencil in the correct position for a tripod grasp – the child just has to position the middle finger to stabilize the pencil.
Encourage children to play with small objects that require their fingers to pinch and roll. Playdoh or clay, Lite-Brite, and small LEGOs or other small building blocks are all great ways that children can develop finger strength and precision while playing.
What If a Child Does Not Develop a Proper Pencil Grip?
If a child is taught a perfect tripod grasp and still cannot do it after practice, don't fret. Some children need a little extra help to position their fingers. Drawing dots on a pencil to give a child a visual of where to place the fingers may help. Triangle shaped pencils and crayons may also help facilitate a tripod grasp. These are usually available through school or office supply stores. If a child needs that middle fingertip on the pencil shaft, facilitate this position. The quadruped grasp is perfectly functional.
A child who cannot hold a pencil correctly even after these simple adaptations may need extra help. Problems with hand strength, coordination or visual motor skills may be present and may be interfering with the development of pencil grip. An occupational therapist can help you determine if a child is having these issues and if intervention is needed to correct problems.