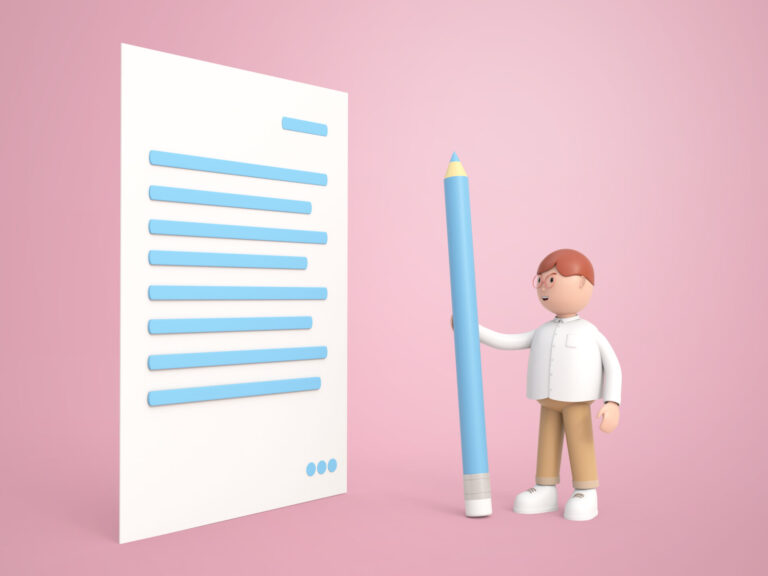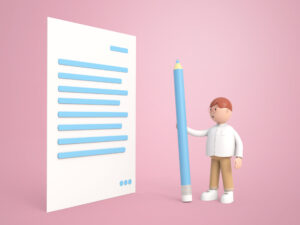 There is no question that the world has entered a new age of technology, we do everything digitally now, hand written letters have become charmingly quaint rarities, and the idea of submitting a school essay or work article in cursive ink on paper seems archaic, even unprofessional. We shouldn't be
Read More
10 Reasons to Teach Handwriting in the Digital Age 
There is no question that the world has entered a new age of technology, we do everything digitally now, hand written letters have become charmingly quaint rarities, and the idea of submitting a school essay or work article in cursive ink on paper seems archaic, even unprofessional. We shouldn't be so hasty though to relegate handwriting to an artisanal craft of yesteryear. Scientists are discovering that it is detrimental to fully replace handwriting with typing. Teaching handwriting promotes brain activity that we don't see when students learn letter and word formation through typing alone, and this neural stimulation leads to rich rewards.
1. Learning and Practicing Handwriting Results in Greater Brain Activity
This is really the grandparent of reasons to teach handwriting because it's at the core of all the other benefits. MRI studies show that learning and practicing handwriting stimulates more parts of the brain than typing, tracing, or the "see and say" method of learning to read. This is a big deal. Enhanced, widespread activity means that we are building more neural networks across the brain, and that's a great thing because not only does handwriting become easier, but so do the other skills we're learning, like reading, language recognition and interpretation. Even better, we get to use those networks again and again, so when we do tasks that are new to us, the brain isn't starting from scratch. It's similar to building roads for travel: one road will get you from A to B, but suppose you build a network of roads to get you from A to B in many different ways, you'll end up with multiple routes not just between A and B but also C,D,E,F,G and onwards to places you don't even know exist yet! Ultimately learning and practicing handwriting will help other things feel easier to us in the future.
2. Teaching Handwriting Makes Reading Easier From the Start
Children learning to print letters use the same visual processing systems for letter recognition that adults use when they read. By contrast, children who haven't been printing things by hand show no difference in brain activity between recognizing letters and simple shapes. This means that children who've been trained in printing letters have activated pathways in the brain for reading even before they start to read words.
3. Handwriting Uses Simultaneous Processing Leading to Easier Reading
Frequent practice with forming letters and words helps students to better recognize words when reading. In fact, studies have shown that explicit handwriting instruction produces improved reading skills without any additional reading intervention! This is because handwriting instruction uses and encourages Simultaneous Processing, which is a way of saying that the brain is able to see the bigger picture, a skill that we use constantly throughout our lives. When learning literacy our brain starts by sequential processing, sounding out one letter at a time. But then we move to simultaneous processing where, instead of perceiving one thing at a time, we perceive the whole. So rather than sounding out solo letters we say words, instead of understanding one word at a time, we grasp the meaning of a whole sentence, a paragraph, an entire story.
4. Handwriting Builds Hand-Eye Coordination and Spatial Awareness
This sounds obvious, but did you know that handwriting specifically connects our motor skills system to the visual system used for letter perception? We don't just use those neural networks to form letters, we also use them to figure out how much space we should leave between individual letters, and between entire words, as well as where letters should sit in relation to lines on the paper. The act of perceiving and producing letters at the same time makes for strong, efficient pathways in the brain. Remember the stronger our neural networks are, the more automatic our skills become, and without that coordination and spatial awareness we'd be left with a jumble of letters to be deciphered.
5. Handwriting Aids Fine Motor Skills, Good Posture and Eye Health
Handwriting having physical benefits might come as a surprise, but handwriting employs far more of the body than we think. When we are learning to write, we strengthen our hand and arm muscles and develop fine motor skills with our growing use of refined precise pencil strokes and pressure. To facilitate these fine motor skills students adopt a relaxed, stable posture, using one arm to balance as the other one grasps the pencil. The use of pencil and paper also permits a welcome break for our eyes from backlit screens.
6. Language Skills Improve When Students Learn Handwriting
When students frequently work on their handwriting, they are connecting with the letters they are forming and the words they are writing. For students in the early stages of writing and learning to spell, they can practice their sounds as they form letters. For students who are writing words, handwriting gives them time to actively think about how the letters sound together. 
7. Handwriting Increases Creativity and Improves Composition
Perhaps you've heard several writers say that they prefer to write their first draft, or do all their planning, by hand. Neil Gaiman, George RR Martin, JK Rowling, Stephen King, Joyce Carol Oates and Quentin Tarantino are some familiar names who've expressed that putting pen to paper boosts their creativity and leads to a more polished, thoroughly thought out draft. This isn't mere romantic whimsy, the act of handwriting does indeed produce a higher standard of both creativity and composition. Handwriting engages more cognitive processing than typing, and is an intrinsically slower process giving you more time to contemplate each sentence before it flows onto the page. Students who've had handwriting instruction show improved organization and elaboration of ideas.
8. Practicing Handwriting Improves Academic Confidence
Feeling like you are struggling in any area of school can be debilitating for a child, and cause anxiety which manifests as lack of interest and avoidance of that topic. Since teaching handwriting recruits the area of the brain used for fluent reading before children have learned to read, it primes them for early success in reading which breeds confidence in their capacity to learn.
9. Putting Pen to Paper Decreases Distractions
Even as adults, we know the struggle of mindlessly scrolling the internet. For students, constant access to their devices puts the temptation of games and off-task behavior in close reach. Putting screens aside in favor of paper can help prevent distractions and allow students to focus on their work.
10. Handwriting has Life Long Benefits
This list has focused on handwriting in children, but taking the time to jot your thoughts down manually is a gift that keeps on giving throughout our lives. We recruit specific memory networks when we write things down, so we're boosting our memory skills. It also makes us more efficient learners, even as adults. People who take handwritten notes instead of typing them, have better retention of the information. We don't just transcribe words when we use a pen and paper, we are listening, interpreting information and actively concentrating on understanding concepts in order to pick out the most relevant points to write down. Conversely, typing is a skill we do so quickly that we place the focus on getting as many words down as possible to replicate the information without trying to understand what it is we're hearing or seeing.
The take away from all of this is that handwriting still has a place as a fundamental tool in education. The great news is we don't need to spend a lot of time teaching it for students to reap the rewards, regular instruction is the key. Combining keyboard skills with a little bit of daily handwriting practice will ensure our young learners are well equipped to thrive in the digital age.
Brain Science and Handwriting: Precise Practice Make Perfect
"That's coming along great. You're getting so much better, keep doing what you're doing. You've really improved!"
It is wonderful watching our students use their handwriting skills every day and seeing them go from carefully forming a letter to writing it with automaticity. As letter formation gets easier, and recognition and recall improve, writing as well as reading feels more natural to our students. 
When we're learning the basics of handwriting, we are building muscle memory and hand eye coordination. The ease that comes with daily repetition of a skill is due to a process in the brain called MYELINATION.
A Quick Guide to Myelination
Myelination is the process of making MYELIN, a fatty substance that is an integral part of neurons (brain cells). Billions of neurons connect the brain to all parts of the body, forming our central nervous system. Information is passed through neurons as a series of electrical impulses. As part of their journey, the impulses travel along a long trunk in the neuron called the AXON. The axon is wrapped in a nice fat coat of myelin, which acts as insulation, making sure the electrical signals move swiftly along their path, similar to the rubber coating on a power cable. 
When we are born, we don't have a lot of myelin, but the brain quickly gets to work forming neural networks, growing neurons, and getting the axons coated with myelin so essential skills like walking and communicating become effortless. Most of the brain is myelinated by about the age of two but we continue to produce myelin well into adulthood because we're still developing higher cognitive skills. When we start to practice a skill regularly, like handwriting, our brain recognizes that we are using certain neural pathways frequently so the neurons in those pathways start making myelin coating for their axons, and the electrical impulses move faster. That's why daily practice makes handwriting quicker and easier. Think of it as a skinny little back road that gets frequently used so the city upgrades it to a superhighway allowing you to get to your destination sooner.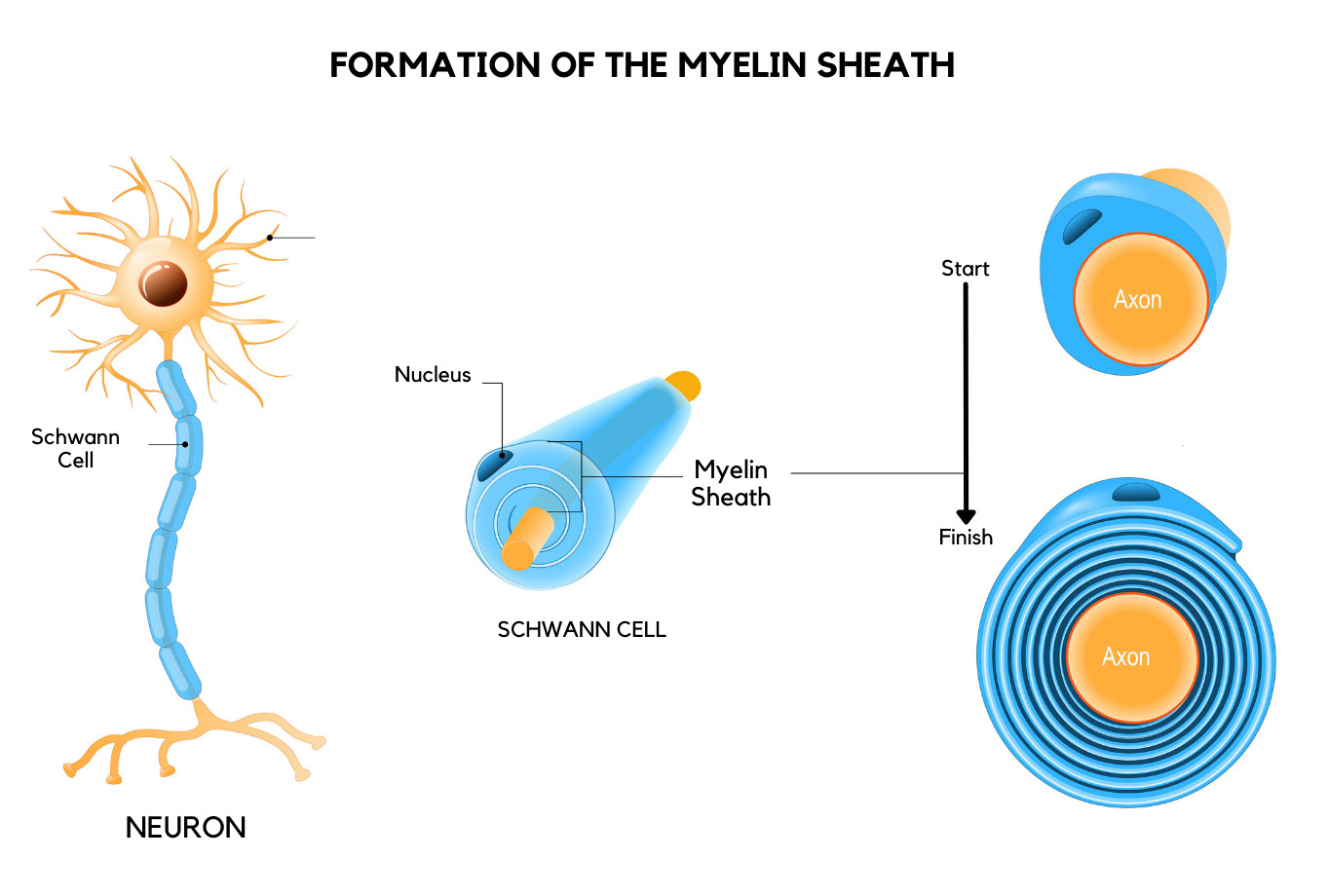 The flip side to this is that the neural networks we don't utilize will be deemed unnecessary and get pruned back, which is how a lack of practice leads to our skills becoming rusty. All is not lost though, once we dust off the networks, we can still regain those skills and improve.
Perfecting How We Practice
So, practice really does make perfect.
Well… almost, but not exactly. Practice makes what we're doing easier and more automatic, but it doesn't mean that we're doing that skill perfectly. It is only precise practice that makes perfect.
Imagine you learn to write your letters from bottom to top. If nobody ever corrects you, you will keep on writing letters in this manner, myelinating those axons, and reinforcing those neural pathways so that it becomes automatic to write letters incorrectly. This establishes a bad habit. And bad habits are hard to break!
Imagine you learn to write your letters from bottom to top. If nobody ever corrects you, you will keep on writing letters in this manner, myelinating those axons, and reinforcing those neural pathways so that it becomes automatic to write letters incorrectly. This establishes a bad habit. And bad habits are hard to break! 
When students practice without supervision, they often form the letters incorrectly. The lowercase letters on this worksheet are "neat" but are all formed incorrectly. The student first made the line and then the circle. (Starting the letter d like a "c" helps to differentiate between letters b and d and prevents reversals.) Not only is practicing incorrect letter formations a waste of time – it results in learning bad habits which are hard to correct. 
This is why it is essential that we encourage early writers to strive for precision – right from the start. Explicit instruction provides students with a roadmap, with a designated route, instead of leaving them to their own devices, to figure out the right path to take.  When teaching handwriting be sure to walk around to observe students while they are writing. In this way, you can provide immediate feedback to correct errors as they occur. 
Why does it matter? While it is perhaps fine to take the long, scenic route occasionally; functional writing requires efficiency. Students who write inefficiently struggle to complete their written work.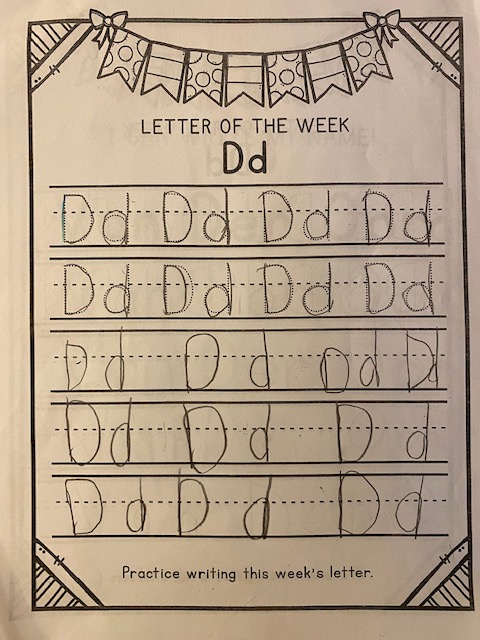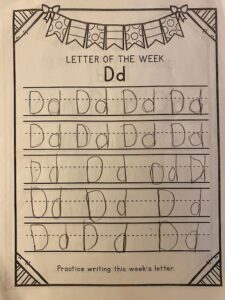 Students are being tasked with writing at much younger ages. What used to be a first-grade curriculum has now moved to kindergarten. Expectations for sentence writing start as early as the first term in some states. Whether or not this is appropriate (hint: it's not) is a discussion for another time. In order for students to write however, they do need to know how to write letters though. Making time to teach letter formation, before the students invent their own means of forming letters, prevents bad habits from setting in and provides an essential foundational skill that will serve them throughout their academic careers and beyond. 
Our young learners are imbued with confidence when they know they are doing something correctly and enjoy gaining mastery in handwriting. Using multisensory activities, such as writing letters in shaving cream, or using your whole arm to make the letter in the air, involves tactile and kinesthetic receptors – which makes learning the letter forms more memorable.
Children's brains are incredible, constantly learning, adapting, and honing skills. We can help to make handwriting an engaging and positive experience for students by guiding them to learn correct letter formation early on, to practice with precision and to forge good habits!
Brain Science and Handwriting: The Areas of the Brain involved in Handwriting
Brain Science and Handwriting
The Areas of the Brain involved in Handwriting
Learning handwriting is glorious for the brain, it helps us become better readers by forging new connections and strengthening ones that already exist. That sounds great, but how does it happen? What is going on in the brain when we grasp a pencil in our chubby little fingers and start turning shaky squiggles letters?
Much of the action takes place in the CEREBRAL CORTEX. It's the chunky, wrinkly outer part of the brain that we see in Frankenstein films, and when we use the words "gray matter" that's the part of the brain we're talking about. It's made up of billions of brain cells, called NEURONS, communicating information and acting on it. They make connections called NEURAL NETWORKS.
Why is the cerebral Cortex so wrinkly?
The cortex is made up of bulging folds(gyri) and deep valleys(sulci), it's scrunched up like this to make the most efficient use of space and fit in lots of neural networks. Think of it like a piece of paper with a lot of text on it. The paper is large and takes up a lot of space. If you fold it into a teeny tiny square it takes up less space, but it still contains the same amount of information.
The cerebral cortex is split into regions called LOBES. Each lobe has different jobs to do but they work together, along with the CEREBELLUM and the BRAIN STEM, to make handwriting possible.
That's a lot of moving pieces, and it takes time to get them to work together properly. Fear not though! Handwriting Heroes helps all the brain parts to cooperate and communicate with each other faster and more efficiently until one day it feels effortless.
Brain Science and Handwriting: The Interaction of Writing and Reading
Learning handwriting improves reading skills! How does that happen? Well, we can thank NEUROPLASTICITY. Brains are neuroplastic which means their cell structure changes and grows as we experience new things and overcome challenges.
Our brains are made of billions of cells called NEURONS. Neurons pass messages between the brain and the body to control everything we do. Neurons connect with other neurons forming NEURAL NETWORKS. The more connections we make and the more we use our neural networks, the stronger they become. Things that were once difficult, like handwriting, become manageable, and eventually easy. Not only that but those neural networks get used to learn other new skills too.
NEUROSCIENCE 101
Neurons are nerve cells. They run all over the body making up our CENTRAL NERVOUS SYSTEM, which includes the brain, the spinal column, and all the nerves that radiate out from the spinal cord to all parts of the body. Some neurons are very small, a millimeter or so, but some can be over a meter long!
When we practice handwriting, neurons communicate throughout our body from the eyes to the brain down the spinal column to the arm, hand, fingertips, and to the rest of our body to adjust our posture.
As we grow from infants to adults our brains get larger and heavier because we are creating neural networks and changing the structure of our brain. When we learn a complex skill like handwriting, we make new growth in our neurons, and when we continue to practice it, we strengthen the neural networks so writing becomes easier.
Think of it like rain falling on a hill, at first there are many trickles, but the water seeks out the most efficient way down the hillside and starts forming select channels. Every time it rains the water finds its way to those channels and flows through them making them deeper and more permanent.
HOW DOES THAT AFFECT READING?
Because the brain is plastic and adaptable, it will use pathways forged through learning handwriting to benefit reading. Reading becomes easier because handwriting has given us a larger, stronger neural network to support it.
Here are a few ways writing supports reading:
1. Learning to write enhances visual processing of letters. This makes it easier for the brain to recognize letter shapes when reading.
2. As children learn to write letters, the movements are stored in what is called "kinesthetic memory". These are the memory centers in the brain that are related to movement patterns. It is the first memory center to develop and provides for the longest lasting memories – for example, the memory of the movement patterns for how to sit or walk. This memory center allows writing to become an automatic motor response, as stated above. When a child learns to read, he or she can draw upon this memory center to remember how the letters on the page are formed and to draw conclusions on what those letters are.
3. Both reading and writing use the same temporary working memory system to take in information, analyze it, and use it. Working memory takes what the eye sees and interprets it based on what is stored in a person's long-term memory. Letters and words are processed through this same system no matter what their source. If working memory can draw upon kinesthetic memory to identify letters, then the brain will respond to the letters and words on a page faster. Reading and writing also interact through working memory during spelling and composing written work.
4. Children learn to write letters from top down. This follows the same visual movement pattern as reading since people read text starting at the top of the page and working their way down. When children learn to write, using proper top-down letter formation, it reinforces the visual organization necessary for reading.
5. Children also learn to align and sequence the letters they write from left to right on the writing paper. This reinforces the left to right visual tracking that is required for reading.
6. Writing is rhythmic and predictable. Because of its rhythm and repetitive nature, writing practice facilitates writing fluency. This fluency leads to an automatic motor response, allowing a child to think less about the actual motor actions of writing and more about what he or she is writing. The ability to focus on reading the letters while writing them leads to more proficiency during the act of reading.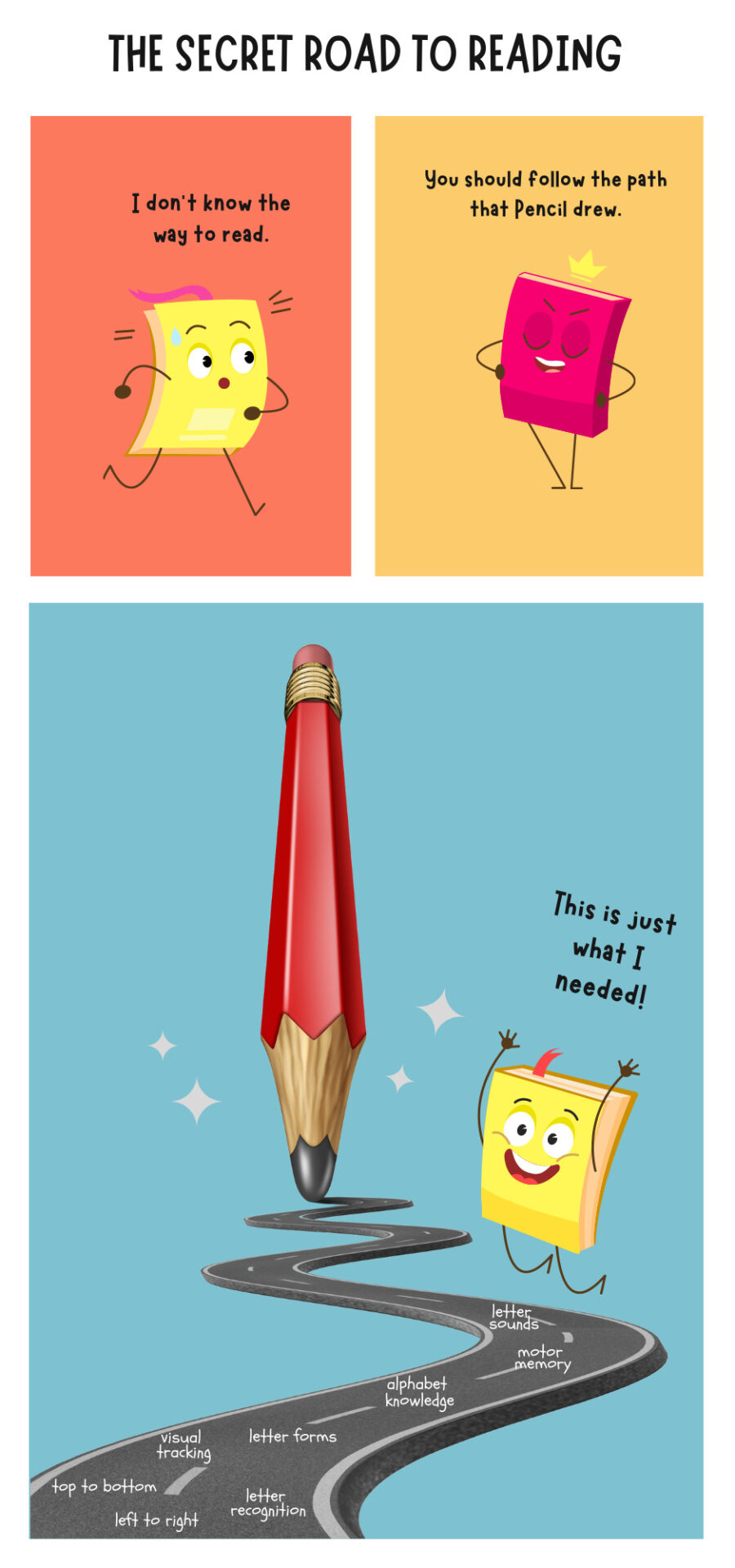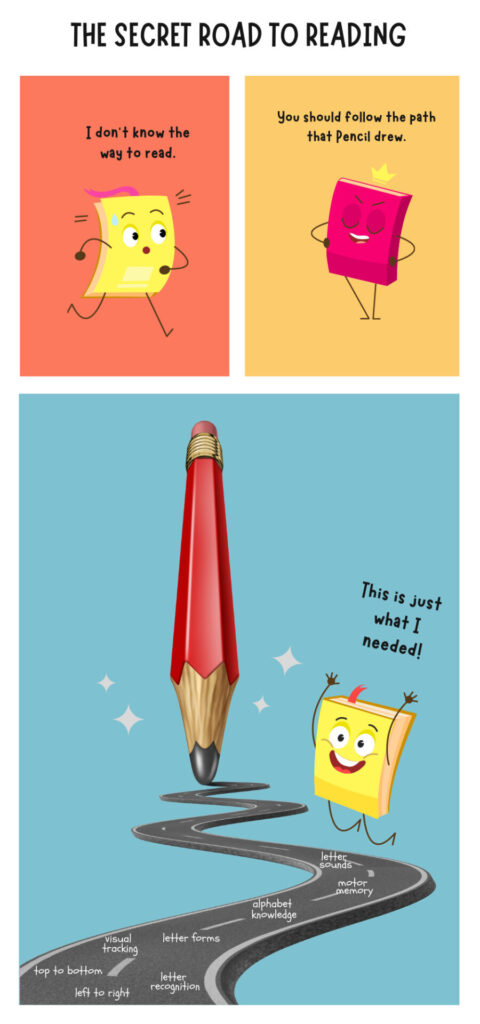 Simply put, the more we write, the easier reading becomes! So, sharpen those pencils and grow some neurons!
Making a Case for Lowercase
Saving the ABC's for Generation Z
To become proficient writers, students need to know how to handwrite. Although technology is becoming more accessible in higher grades, students in lower grades still depend on pencil-and-paper for written communication. To handwrite, they need to know how to make their letters, and where the letters go on the writing line. Once handwriting is mastered, students can then focus on expressing and organizing their ideas. While some students can learn to write by merely observing their teacher modeling correct writing and by being provided with opportunities to write, the majority of students still require explicit instruction to learn this skill.
In the last few years, rigorous curriculum demands have caused handwriting to be bypassed. Some of the unfortunate outcomes of this are:
students are struggling with basic writing tasks
students grades are suffering due to illegible writing
children with poor handwriting are experiencing poor self-esteem
early readers who benefit from kinesthetic learning may struggle to learn to read since writing letters by hand significantly improves letter recognition
there is a significant increase in referrals to occupational therapists for handwriting difficulties
And, of course, typing comes with its own set of issues:
students who use technology are significantly more distracted and off-task
students who type their notes learn less and show less ability to synthesize and generalize information
Understanding that explicit handwriting instruction is fundamental, the Handwriting Heroes method is designed to solve the most common obstacles that teachers face:
OBSTACLE: Students complain that handwriting practice is boring.
SOLUTION: Handwriting Heroes uses humor, storytelling, and animations to make learning letters memorable. Even young learners can easily recall how to form letters because of the strong associations made when they see the relatable characters, hear the witty stories and follow along with the letters' movements.
OBSTACLE: Teachers do not know how to teach handwriting.
SOLUTION: Handwriting Heroes can turn even the most timid teacher into a handwriting expert. The instructional videos and teacher guides provide easy to follow directions. Moreover, the video animations and the iPad app present all the letter stories, each group's song, and guided multisensory activities in a step-by-step format.
OBSTACLE: Teachers do not have the time to teach handwriting.
SOLUTION: Grouping letters by their first stroke increases the speed and efficiency of learning the letters. The entire lowercase alphabet is taught in just five weeks! Then, students work to improve lowercase fluency through targeted practice for several months. Once they have mastered lowercase, uppercase is formally introduced. By six months, students can write their upper and lowercase letters.
Your 90-minute per week time-investment is sure to be repaid in spades – by happy, confident, capable writers!